Molded Coils - Custom Wound Coils, chokes, more
Molded Coil Assembly for Solenoid Actuator
Heat Resistant & Water Proof

A Turn Key of Molded Coils
Coil Winding and Plastic Molding are made in a Same Factory.
Glass fiber included PPS is available.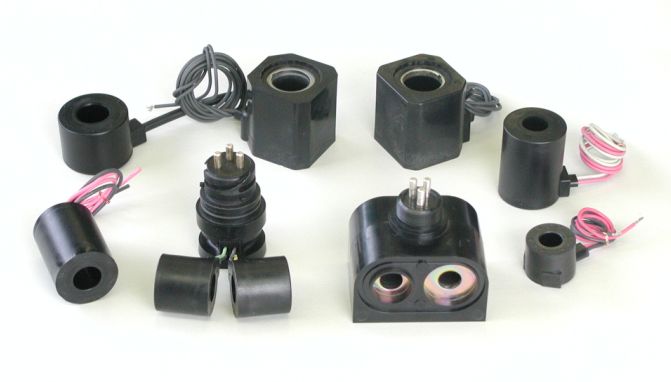 1. Specification Outline
AC100V - 200V, 50Hz - 60Hz
DC6V - 48V

On customer's requirement

From low to high ratio

Meeting with JIS, PSE, UL and other safety standards.

Complying with JIS D0203 1-4 (Every Automobiole Vibration Test) and Special Water Proof Test

High Output by Compact Assembly
High reliability by coil winding and plastic molding
in a same factory.
Designing and manufacturing on requested specification
2. Application & Actual Examples with Taiho made Molded Coils
| | |
| --- | --- |
| | Automobile, DC Solenoide Coil for Construction related Automobile Solenoide Valves, Electromagnetic Coils for Motion Control |
| | ABS System, Steering Control Equipments, Air Conditioner and Others |


Molded Coilds made by Taiho Products
Meeting with JIS D1601(Vibration) and having high water resistance.
Bobins specially designed by Taiho Products are used.
Minimized size by well controlled winding.
Designing and production of molded coils with customized specification.
Wide range heat resistance from Isolation Class B to class H.
PPS molded coil stands against water and heat up to 200 degree C is available.

There are no products listed under this category.